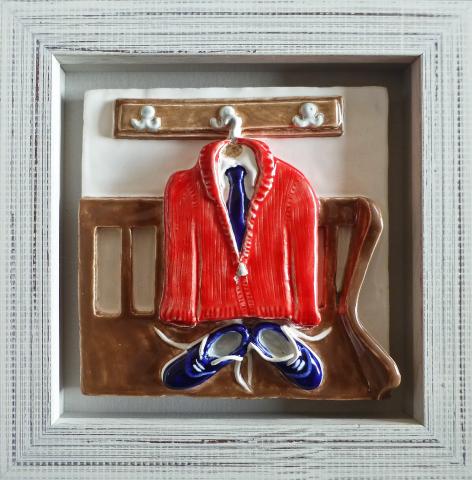 Recently a fundraising group approached Ackfire Studios to design and create an original bas relief tile as a fund-raising tool. That group, located on Nantucket, is creating a pocket park on the waterfront, with a central, lifesize sculpture of the beloved Mr. Fred Rogers, creator of Mr. Roger's Neighborhood. The sculpture is to be designed and produced by the sculptor Seward Johnson.
Alison MacDonald was asked to distill the key visual elements of Mr. Rogers, his sweater, sneakers, etc., and create an image that would evoke him without being a portrait.
The finished tile is framed and displayed at several locations, and a limited run of 200 tiles is presently in production.
Another successful interaction between AckFire Studios and a custom client, it is an example of what we pride ourselves in doing and enjoy great satisfaction in, the adaption of a client's ideas into a producible entity. And who doesn't love Mr. Rogers?